COMMUNITY YOGA
5:00PM - 6:00PM | Location : Anderson Memorial Park | Fee : FREE | Link : Learn More
Where all are welcome to discover their true selves, empower muscle and mind through motion and method, and unite with the body, soul and community.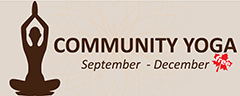 POPUP FITNESS CLASS
8:00AM - 9:00AM | Location : Geneseo Community Center | Fee : Free for Members / General Admission for Non-Members | Link : Learn More
Bring a friend of a fun hour of YBB Fitness with a mix of Dance, Barre & Yoga. Everyone is welcome!